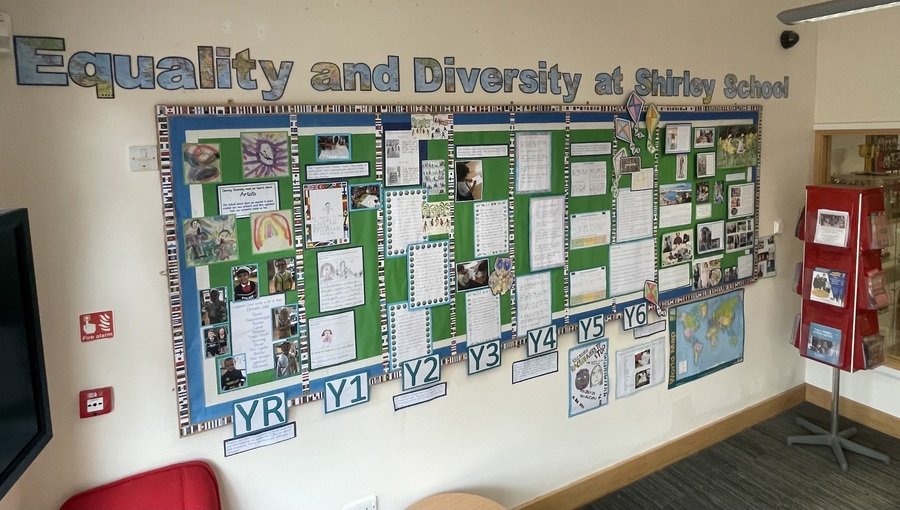 Thank you for visiting our school website and welcome to Shirley!
We are a friendly, happy and successful school, serving the diverse and vibrant community of Chesterton in Cambridge. Our pupils come from a wide variety of backgrounds and many speak English as an additional language. Children love coming to Shirley - they literally 'run in' to our playground in the mornings, and they are welcomed by a happy and dedicated staff who support and nurture them in a variety of ways. We are a highly inclusive place of learning and are very proud to be the first school in the country to gain the Equalities Award.
Our new school logo and badge was created in 2021 by children and parents, and reflects the importance of growth, working together, key skills and a wider joy of learning, which are all fundamental parts of school life at Shirley. Our new motto: 'Cognita Vitae' is Latin for 'Learning for Life' – our aim is that children gain the knowledge, creativity, and understanding of each other and of the World, which will take everyone forward now and into the future. Our Curriculum is broad, deep and enriching with all areas of learning valued highly; we follow the 'Essentials Curriculum' from Chris Quigley, and ensure everyone is challenged and supported, whatever their age, ability or level of confidence.
We look carefully at the development of the 'whole child', and through our curriculum, with a focus on key skills, we aim to give children the best possible start in life. Everyone has huge potential, and we want our pupils to enjoy learning, achieve the highest possible standards and develop their curiosity, adaptability and problem solving skills. Children's emotional health is also nurtured through our strong focus on Personal, Social and Health Education, as well as via our Daily Mile or meditation sessions, which help children learn to relax and make calm decisions in our busy World.
We promote an ethos where every child is valued as an individual; this helps them to grow into caring and respectful young people who are able to get on well with each other and make a positive contribution to our community. We also nurture and develop teachers of the future through our close relationship with the Faculty of Education at Cambridge University, where student teachers come to learn from our highly motivated and skilled staff; we have a strong track record of developing newly qualified teachers and staff develop their careers in a whole range of ways.
Our building was purpose-built in 2011 and our spacious, light building has a well-resourced Library, Food Tech Room, ICT Suite, two halls, outdoor learning spaces (including an allotment, Forest School area and orchard), community rooms and a Children's Centre.
We are committed to safeguarding and promoting the welfare of children and we expect all staff, parents and volunteers to actively share this commitment. Our Designated Persons for Safeguarding are myself, Mrs Wernham (Deputy Head), Miss Thomas (Pastoral and Welfare Officer) and Mrs Pickering (Pre-School Manager).
Ofsted visited us in March 2018 and while they were visiting, children commented that 'this is a good school because people make you feel welcome'. Parents also shared that 'this is a truly inclusive school that does its best for all pupils, whatever their background, culture or ability'. Recent parent surveys include many positive comments such as: 'the teachers really know and care for our children and have time for my concerns and questions' and 'the broad spectrum of curriculum including diversity and equality is excellent'.
You can find out a lot more about life at our school by visiting the 'class pages' in the 'Parents' section, where there are also learning blogs and photos. If you are a new parent, please visit the 'Applying for a place' section, where there is a presentation and a film with further information for you.
We hope our website gives you a good flavour of what life is like at our school. Visits are always welcome and we look forward to meeting you!
Mr Cattermole, Headteacher