YEAR 5 Blog
22nd - 26th May 2022
Diversity Week
This week has been Diversity Week at Shirley and each year group has been learning about a different aspect of diversity. Year 5 focused on gender equality. We looked at many famous women in history who fought for gender equality from Emmeline Pankhurst who fought for the right for women to vote, Ida Scudder, an American medical missionary, who trained female doctors and nurses to help save women in India and Malala Yousafzai, who campaigns for girls right to an education. We made posters, persuasive texts and answered questions about these famous figures in history. We shared what we had learnt with the whole school in a sharing assembly on Friday. Take a look at our work below!
14th March 2023
Science Week
This week we have been enjoying Science week by completing lots of experiments.
On Monday we looked at how long it took for different substances to dissolve when put in water. We used salt, sugar, coffee, ground pepper and flour. We discovered that the pepper and flour didn't really dissolve in the water and the coffee took the least time.
On Tuesday we learned about reversible and irreversible changes. We did some tests to see what happened to certain materials when we mixed them, if we could put them all back to how they were before, our change would be reversible, if we couldn't, it would be irreversible.
First we mixed plaster of Paris with water and recorded the temperature change over time. We found the mixture became hotter and thicker as time went on. At the end of the lesson we came back to our tests and found they were rock solid - definitely an irreversible change!
Our next test was to mix vinegar, washing up liquid, food colouring and bicarbonate of soda together, can you guess what happened? Watch our videos to find out!
3rd March 2023
World Book Day Celebration
We have thoroughly enjoyed celebrating World Book Day today.
First, we read our focus book for the day: The Wizard of Oz. We thought about the different characters and settings of the story and spent the first part of the morning designing and creating settings from the book out of carboard. We made a farm in Kansas, a yellow brick road, an emerald city, a tin man's shack and a wizard's castle!
Next we created some reading posters to encourage people to pick up a book and read. We create our own slogans and made our posters really appealing. Our posters are to be entered into a competition and the winners get their poster copied and put up all around the school, including in the classrooms and the library. Good luck!
Finally, in the afternoon we decorated our doors as a book cover of our class favourite book. Tree Kangaroos chose 'The World's Worst Teachers' and Blue Whales chose one of our previous English texts, 'The Strange Case of Origami Yoda'.
Have a look at our costumes and activities we did today below.
24th February 2023
Science - Space Visit
Today we had a very special visit from Mike Culley all about space.
We started out in the hall learning about the space race and split into Russia and America to battle it out to be first on the moon. After this we shared our knowledge of the planets with Mike and he taught us more about planets, stars and constellations.
After a quick break we were back in the classroom to do lots of experimenting! We worked in groups on 7 different activites: Simulated lanching a probe, mapping a course through space, controlling a robotic arm, investigating space rocks, researching planets, sorting cans representing the different masses of the planets and making rocket fuel! Mike then taught us about meteorites and showed us some real life space rocks from his collection.
In the afternoon, we explored vintage toys all about space like moon shoes, stomp rockets, viewfinders of space rockets, space pinball, spring jacks and space station morse code.
We finished off the day with a Q&A with Mike and he answered our many many questions.
21st and 23rd February 2023
Life Education Learning Bus
This week The Life Education Learning Bus came to Shirley school and Year 5 got to go inside (on Tuesday for Blue Whales and Thursday for Tree Kangaroos) to learn about some important things. The session in year 5 centered around friendship and how to deal with peer pressure. We also met TAM and learnt about our organs and what they do for us and discussed the dangers of drugs and alcohol and what they can do to our bodies. We practiced saying "No" to lots of different scenarios we might encounter using assertive strategies of maintaining eye contact, suggesting another activity or making excuses and leaving the situation. Finally, after a long session, we were very excited that the learning bus had stars in the ceiling too which were very calming. Have a look at our pictures below from Tree Kangaroo's trip on Thursday.
6th - 10th February 2023
Safety Week
We have been very busy this week learning all about safety and what we can do to help keep ourselves safe.
On Monday we looked at first aid and what to do if we see someone in trouble. We found out how to keep ourselves safe when providing first aid like making sure the environment is safe before proceeding so we don't endanger ourselves. We also learned how to make an emergency call to 999 and made posters to share our learning with others.
Tuesday was safer internet day so we learned about how to be safe when using the internet. We learnt about SMART rules and what to do in different scenarios online.
On Wednesday we looked at who are trusted adults were and drew them in our books.
On Thursday we learnt how to stay calm online, some of our strategies included: counting to 10, taking deep breaths and going outside. While at swimming, some of us also learnt what to do if we fall or are pushed into water. We practiced how to stay calm and attract attention to get help. We also had a visit from the fire service and they asked us to check at home if we had a smoke detector and an escape plan to keep us safe if there were to be a fire in our home.
On Friday we looked at staying safe in online relationships. We learnt about consent and how to know when to give it. We learnt to ask ourselves different questions to know if we should give our consent. Is it safe? Is it kind? Do I feel happy and comfortable with it?
Finally, the whole school got together for a sharing assembly to share their learning this week about safety.
5th January 2023
History
This term in History we are learning about the Tudors. We started our new unit by looking at what the Tudors used to eat and found out they ate bread with almost every meal. We had a go at shaping some bread dough in some traditional (and some not so traditional!) styles.
Take a look at our creations below!
We have also sorted the reigns of the kings and queens of the Tudor monarchy into a timeline along with significant Tudor events. We learnt about Elizabeth I and her impact on religion and the golden age.
9th December 2022
Spanish
This term in Spanish we have been having lots of fun learning the numbers to 10, how to have basic conversations and some classroom commands. We've played lots of 'Simon says' and other games to help us learn our new vocabulary. These past few weeks we have been working on our Christmas unit, including acting out a short nativity, singing carols in Spanish and writing a letter to 'Los Reyes Magos' (The Three Wise Men)!
Have a listen to our favourite carol we sang: La Marimorena.
14 - 18 November 2022
Anti-Bullying Week
We have been very busy this week learning about bullying and what we can do to prevent it at Shirley.
On Monday, we looked at what bullying is and what it isn't and sorted scenarios into four categories: bullying, teasing, being mean or conflict.
On Tuesday, we looked at this years theme: Reach Out! We made a list of who we can reach out to at school and at home and created a window display using all of our ideas. We also looked at the different roles involved in bullying.
On Wednesday, we learned about what cyberbullying is and learned what to do if we see it happening or experience it. We made posters to share what we learned with others.
On Thursday, we took all the knowledge we learnt and put it together to make a big class poster about what bullying is and isn't and how we can reach out. We also made story boards to show a scenario involving bullying behaviour and showed a person reaching out to help stop it.
On Friday, we shared our work with the whole school in a sharing assembly and listened to what other classes were learning about this week.
11 November 2022
We have had a busy half term and the children have been working hard. In Geography the children are learning about biomes and climate zones and plotting these on a map.
In Science we are now learning about forces and magnets. The children have been making straw rockets to investigate the forces acting on them.
23 September 2022
Science
Welcome to the our first blog of the new school year.
This half term the children in Year 5 the children are learning about sound and how it travels. We discovered this by doing a few experiments. We made air cannons and used Slinkys to show how sound waves travel and can be blocked. We used tuning forks and submerged them in water for the children to be able to see how the sound travels. We also used table tennis balls on a piece string and again banged the tuning fork on a table and then onto the ball to understand how sound travels.
Ecology Week - Friday 1st July, 2022
Over the past 5 days, 'environmental sustainability', 'ecological awareness' and 'personal responsibility' were the buzz words during Ecology Week at Shlrley. The word 'ecology' is derived from the Greek words Oikos (meaning, of the home) and logos (meaning thought or principle). In other words, these are the thoughts and principles that provide us with a healthy, clean and safe home. Putting our own words into action this week, Year 5 classes tried hard to get its own house in order by learning about a few key actions and principles that will help us to leave a lighter touch on our beautiful planet Earth. On Monday we had a go at making our own cars made from recycled materials and powered by batteries and wind turbines. We also had a go at a recycling jigsaw, ordering which items should go in which recycling container. Earth poetry and recycling also featured across our Literacy and Reading topics this week. On Thursday, Blue Whales embarked on a big litter picking operation around the school, using Mrs West's litter picking sticks and high-vis jackets! The children were brilliant at reminding Mr. Fisher to turn his lights off and stop printing so much. We hope you all enjoyed Ecology Week too!
Jubilee Week - Friday 10th June, 2022
Like the rest of the country, Blue Whales and Tree Kangaroos classes have been celebrating the Queen's 70th Jubilee this week. We have been sharing our experiences of the Jubilee bank holiday weekend by writing diary entries as if we were there at Buckingham Palace with the huge crowds; using our mapping skills to find commonwealth countries; practising our portrait skills, sketching the Queen; and learning a 1950s song to sing: Stand By Me by Ben E. King.
Diversity Week - Friday 27th May, 2022
This week, as part of the school's Diversity Week, we have been looking into and learning about the life of Malala Yousafzai, the Pakistani activist for female education and 2014 Nobel Peace Prize winner. During our ICT session, we researched important milestones and moments in her life, such as when she started school, where she is from, how and why she suffered from a horrific attack, and how she survived, recovered and became even stronger as an advocate for women and girl's education.
The children created posters about Malala's life and, in English, wrote a letter to her, detailing why she is such an inspiration to others.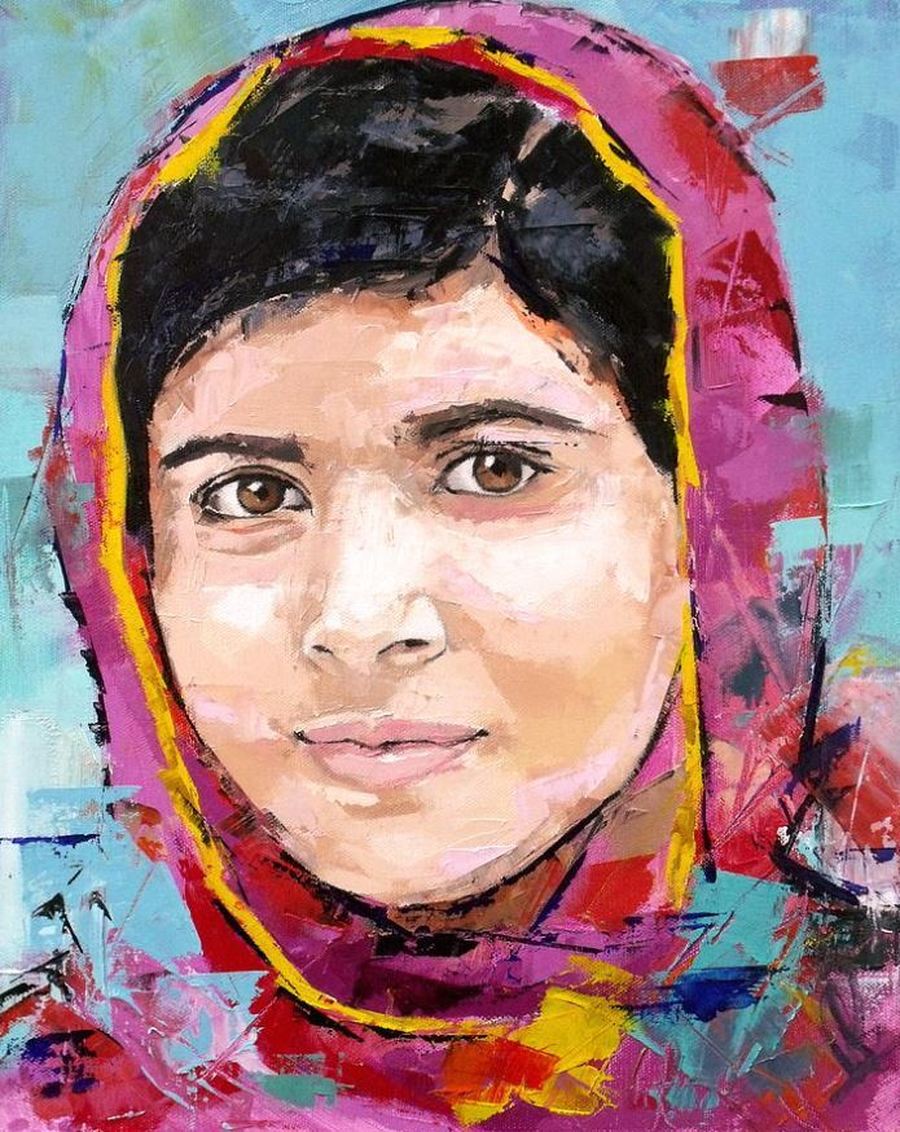 Wednesday, 16th March, 2022
Gears and Pulleys is our theme for Design and Technology this half-term, and the children are measuring, building and integrating their own gear mechanisms with the aim of using them for their own funicular constructions next week.
Thursday, 10th February 2022
With the aim of practising our times tables, today our Year 5 children created their own multiplication board games.
Friday 10th December 2021
Over the last few weeks, we have been exploring how different bridges have been formed. After looking at real life designs, we then designed our own before constructing them. Check out our designs and constructions!