Story map
Here are Swift's and Robin's story maps! Please use them over the weekend to practice retelling your story.
Science Week
During Science Week, the children have planned an investigation to find out what part of a plant grows first. We all made our own hypothesis and have planted beans this afternoon. We chose transparent cups so we can observe the roots growing, as well as the other parts of the plant. We are going to observe our plants each day and track how the different parts of our bean plants grow!
World Book Day
Today the children enjoyed dressing up and telling each other about their favourite characters. Shirely School enjoyed reading The Wizard of Oz and Year 1 spent time thinking about the power of reading and our imaginations. We also spent the day being very creative, making reading posters and decorating our classroom doors to look like our class' favourite books.
Safety Week
Over the week, we have been learning how to keep ourselves safe online. We looked at a story called 'Hanni and the Magic Window' and discussed who we can go to if something online makes us feel uncomfortable. We also talked about our in person and online identities and learnt about different ways we can stay safe online.
Art inspired by Henri Rousseau's paintings
We have all been very observant artists this half term! We have explored different patterns, complementary colours and different shapes to create some fantastic jungle collages inspired by Rousseau's paintings.
Fire service visit
The fire service visited Shirley today! Fire fighters showed the children what equipment they use and some of us even got to try it on. We all explored a fire engine and had a go at sitting in the back seat. Year 1 did a fantastic job of listening to our visitors and asked lots of interesting questions.
Alien Crash Landing
Today, Year 1 investigated a space craft that had crash landed in the playground. They used their knowledge of the 5 'W's to ask questions about the mysterious event.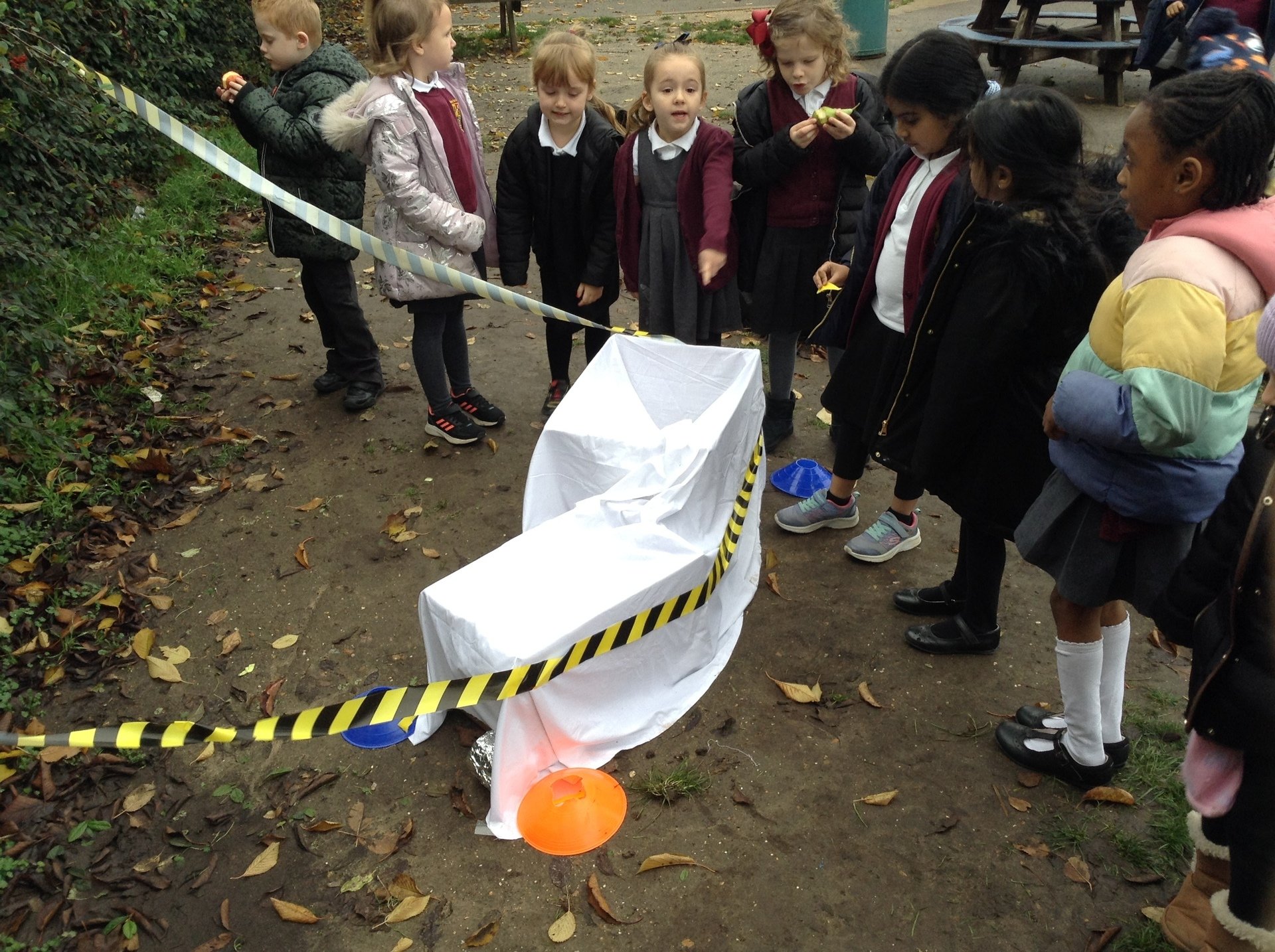 Anti-bullying Week
During the week, the children discussed what bullying is and how we can reach out to stop it. We created our own support networks so we know who we can go to if we need help or someone to talk to.
Trip to Wicken Fen
Today the children went on an incredible trip to Wicken Fen Nature Reserve where they engaged in a range of activities such as pond dipping, classifying animals they found, exploring nature and identifying minibeasts.
The Tiger Who Came to Tea
We have been looking at the book 'The Tiger Who Came to Tea' in our English lessons. We have been doing a fantastic job of retelling the story and even innovating it. The children have been very creative, working together to think of adjectives to describe the tiger. We even had a mischievous tiger visit our classrooms!
Exploring our new classrooms
Year 1 Blog 21-22
Dinosaurs and all that rubbish
We have been looking at a story called "Dinosaurs and all that rubbish". The story is about a man who flies to a different planet because he doesn't like living on Earth but when he returns to Earth, the dinosaurs have transformed it so that the man doesn't even recognise it. We practised writing on different planets and stars. We even wrote on party hats and had a party on the last day when the boy and the dinosaurs made friends.
Anti-bullying Week
During the week of the 15th November, both Year 1 classes spent time during our PSHE sessions thinking about kindness. We shared ideas about how we can be kind to each other in the classroom and playground. We also enjoyed listening to stories about kindness. The children helped put together some posters to go on display about the topic. We also shared our school's anti-bullying charter which the school council had helped to develop.
Lost and Found
This week in English we have been looking at a story called "Lost and Found". It is a story about a little boy who finds a penguin and tries to return him to the South Pole. We practised our writing on paper boats and helped the little boy to find the penguin's home...
History Day!
Today in Year 1 we had a whole day of history! We learned all about Queen Elizabeth II and her coronations. We had the opportunity to design our own crowns and colour in our own Union Jack flags. We looked at the timeline of the Queen's life, learned about her family and drew a picture of her.
Christmas Concert
This week we have been learning new songs for the Christmas Concert. We have been trying really hard to learn the songs and the actions and we are really excited to show our adults soon!
IT'S CHRISTMAS!
This week we have been doing fun activities to celebrate Christmas. We had a party in our classes with music and games and we designed Christmas crowns ready for our Christmas meal on the last day of school. We really enjoyed our yummy Christmas meal with our friends and then enjoyed watching a film afterwards.
Enter text...
DT DAY!
Today in Year 1 we had a Design and Technology day. Our challenge was to design a bridge for the Three Billy Goats Gruff to cross safely and avoid the troll! We learned about structure, strength and stability. We used different techniques to make our bridges stronger: folding, joining and rolling. Look at the pictures to see our bridges!
Jumping Jacks
In PE this week we were looking at how to jump safely. We learned how to bend our knees before jumping and how to land successfully. We tried jumping in and out of hoops to perfect our techniques and had a lot of fun!
The Odd Egg
This week in English we have been looking at the story of 'The Odd Egg'. We designed our own eggs using crayons, paint and glitter based on the story then we wrote sentences to describe our eggs! Pictures will be coming soon....
WORLD BOOK DAY
We had lots of fun dressing up as our favourite characters this week for World Book Day. We will show you our costumes in our class assembly!
SCIENCE WEEK
This week we were celebrating Science Week. We did lots of different activities related to our topic of 'Materials'. We learned about different materials and their properties and we had a go at sorting and describing objects based on their materials.
LEAF PRINTS
This week in our Forest School session we were looking at the details on a leaf. We went out into the forest to find some interesting leaves and then imprinted them onto playdough to see the veins.
Equality and Diversity Week
Our last week of this half term presented us with exciting opportunity to learn about Equality and Diversity. In Year 1 we asked the question "What is Diversity?" and spent the week learning what this truly means in its many different aspects.
We started by exploring the meaning of the word "Diversity" through a great story called "Acceptance is My Superpower." This rhyming story presented our key message for the week:
"To accept each other's differences is called DIVERSITY. It means we must treat everyone with respect and courtesy."
Through stories and activities we spent some time learning about our different physical appearances such as hair, eye, and skin colour.
Then we moved onto exploring the idea that regardless of our differences of gender we should be able to make free choices about, for example, the types of toys, colours, activities, and games we like and play. Anyone can like blue! Anyone can like pink!
We looked at the challenges that disability presents and learnt some sign language.
We also talked about our different cultures and religions.
Having thought about how amazing and diverse our world is we revisited our question of the week, what is Diversity? After a week of exploring this subject, the children were experts on what diversity means and how we should treat everyone with respect and courtesy. A great week!
JUBILEE WEEK
This week we celebrated the Queen's Platinum Jubilee in school. Did you know she has been Queen for 70 years?
We have spent lots of time this week learning about Queen Elizabeth II and what life was like in the 1950s. We created a timeline of Queen Elizabeth II's life and learned some 1950s playground games.
To celebrate the Jubilee we made our own royal crowns out of paper plates, paint and gemstones. We wore our special crowns to the Jubilee Celebration where we sang a special song to our guests. Then we went outside and ate cake together in celebration.