Reception Class Blog - Dragonflies and Ladybirds
We are so excited to be able to share our learning with you on our blog. We will be posting photos from both classes and keep you up to date with your child's learning. Here you will find out key messages and find out what we get up to in school!
Superhero Day in Reception
Christmas in Reception
ELF WATCH! Monday 6th December - Today the cheeky elf was ziplining through the classroom on a candy cane!
ELF WATCH! Friday 3rd December - Today the cheeky elf spilled the counting cubes all over the book corner!
ELF WATCH! Thursday 2nd December - Today the cheeky elf put toilet paper all over our Christmas tree!
Christmas Lights switch on! - Wednesday 1st December
Today Mrs Mitchell, the deputy headteacher at Shirley Primary School, came to help us switch on the Christmas lights! We had to do lots of wishing and use some magic fairy lights to make the lights work. After the lights came on, we listened to some Christmas songs and drank some hot chocolate.
We all put a bauble on our tree this afternoon
Tuesday 9th November 2021
We're Going on a Bear Hunt!
Today the children reenacted Michael Rosen's 'We're Going on a Bear Hunt!'. The children had great fun travelling through the grass, river, mud, forest and snowstorm before arriving at the cave and finding a bear! The bear later visited our classroom and we discovered she was friendly really!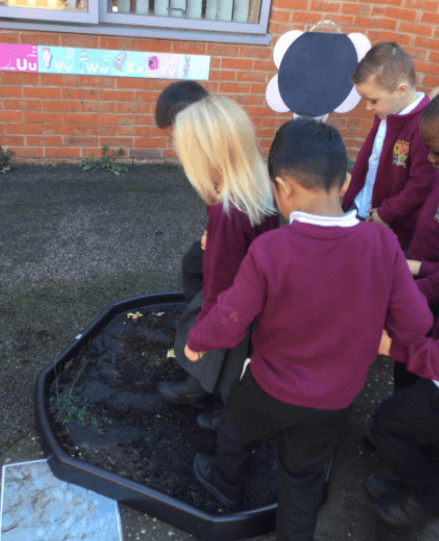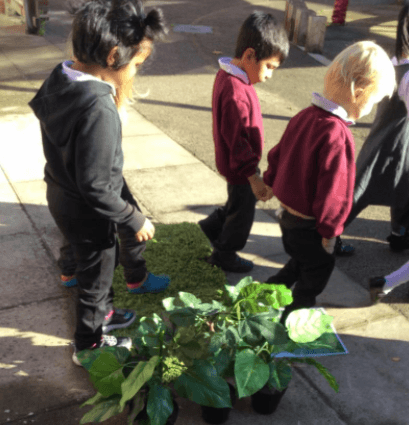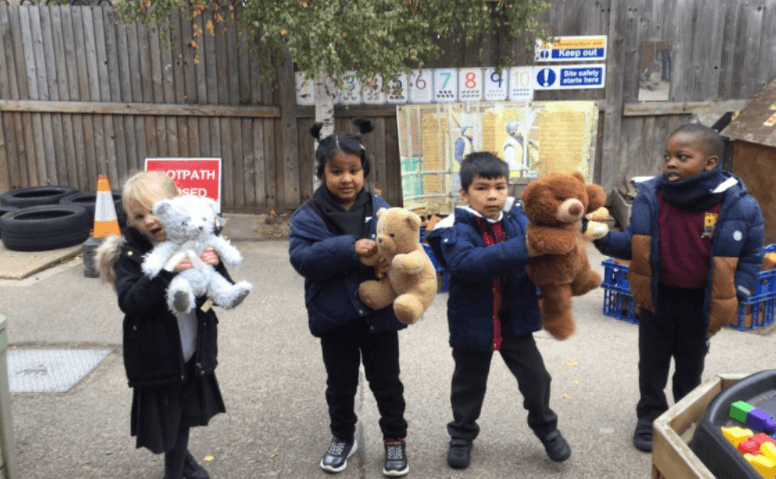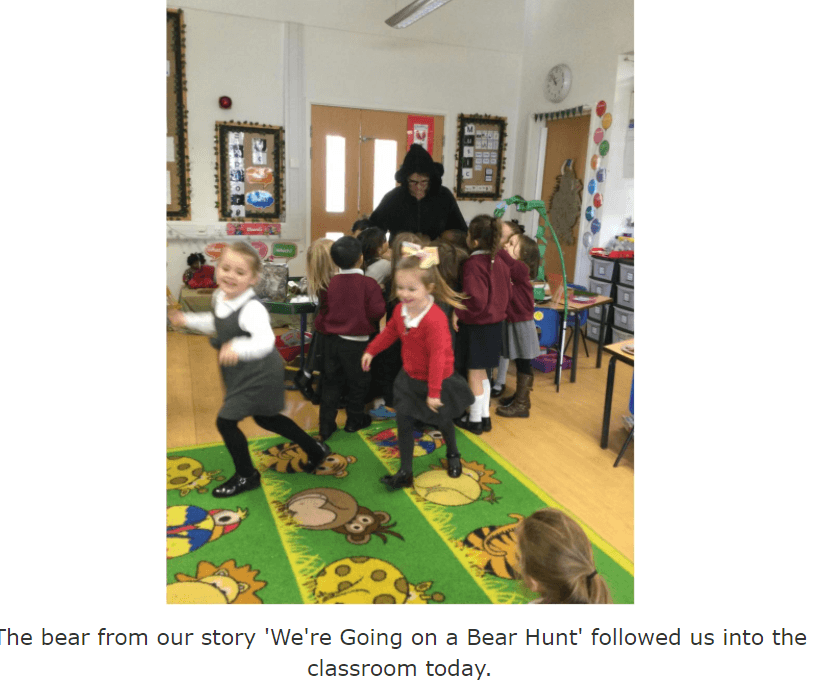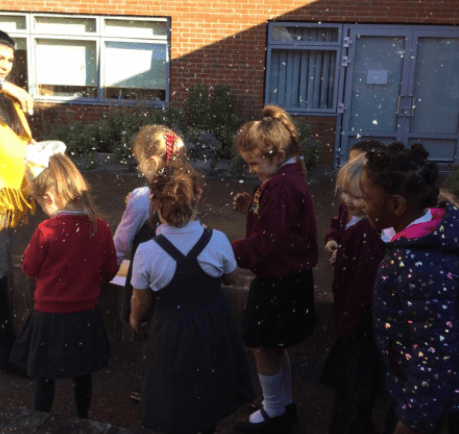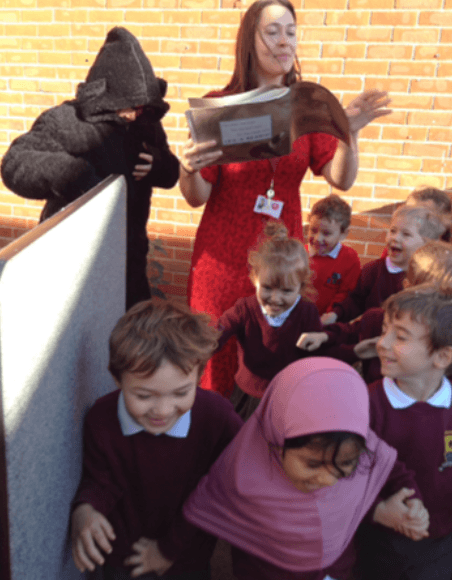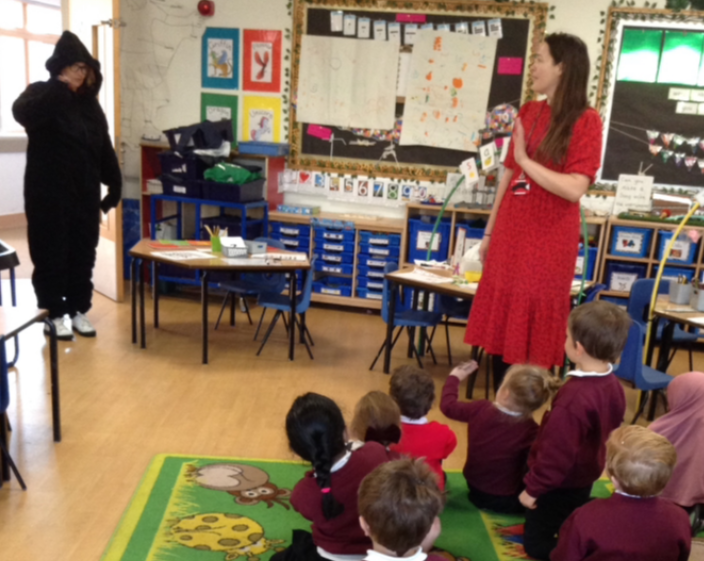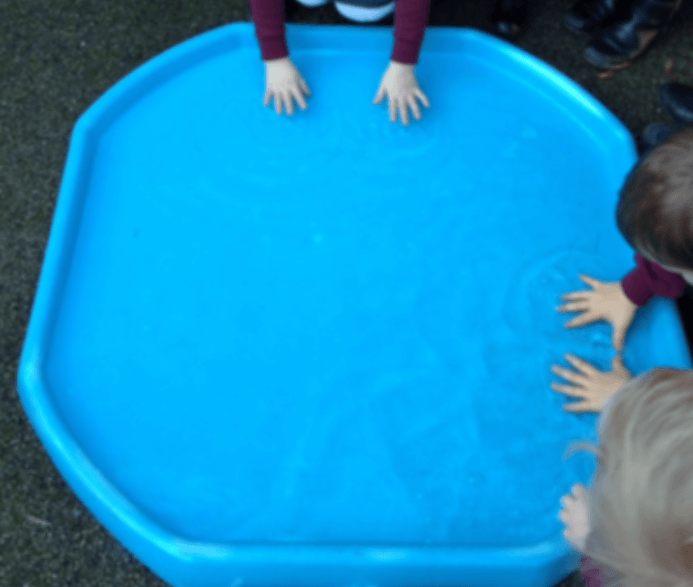 Pumpkin Soup
Diwali
This week the children in reception have been learning about Diwali as part of our Understanding the World area of learning which links to the EYFS curriculum. The children loved dancing, dressing up and learning about the story of Rama and Sita. Mrs Saha also shared a wonderful video of how her family celebrate Diwali at home. The children then made their own Diya lamps which they will bring home on Friday.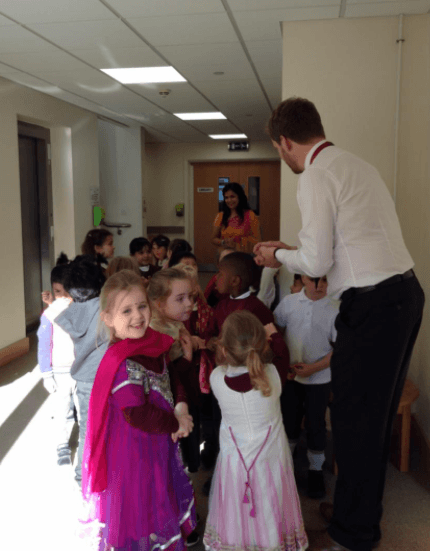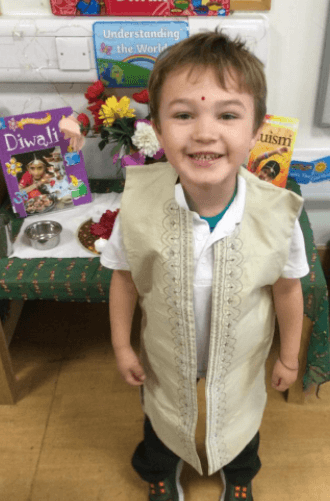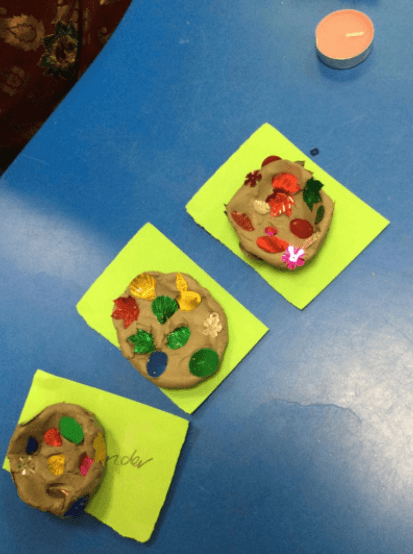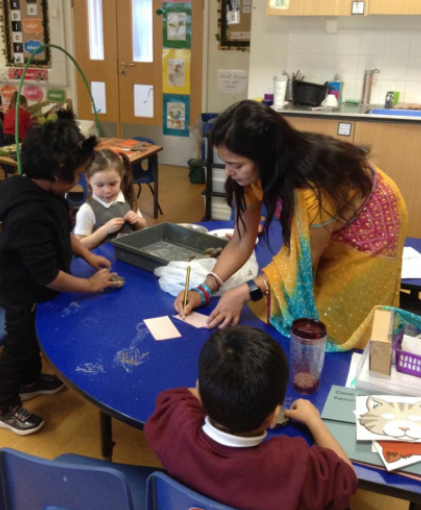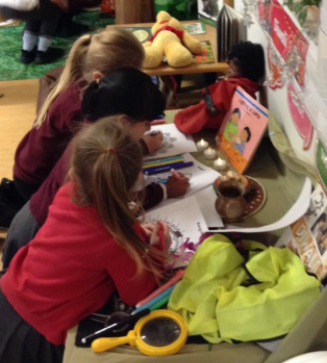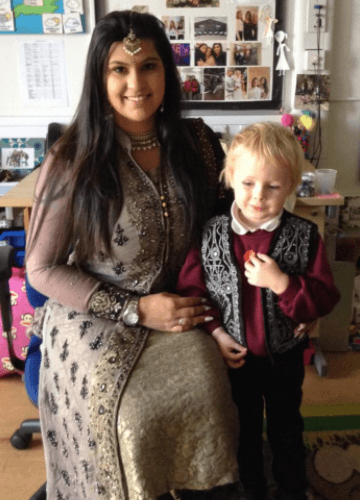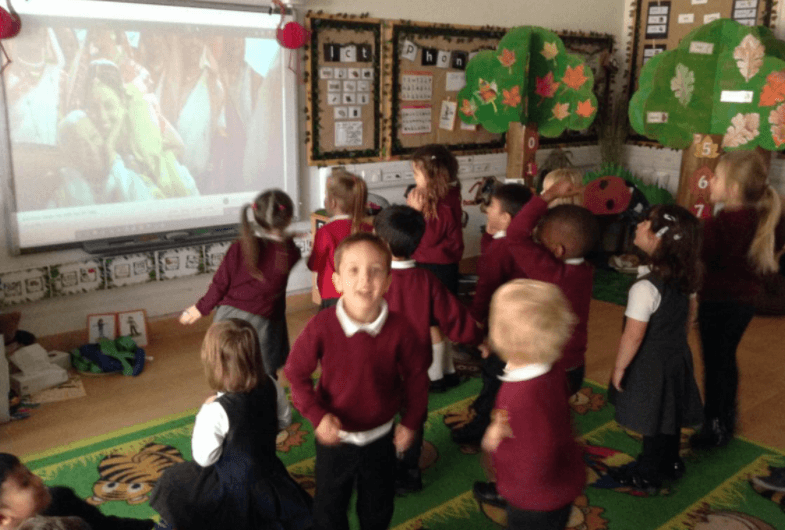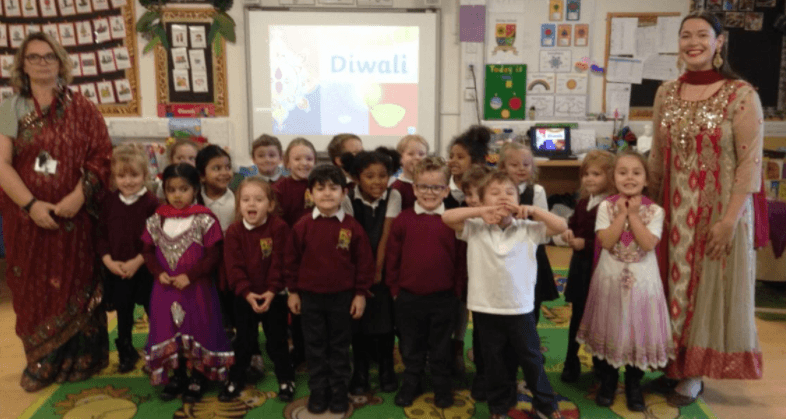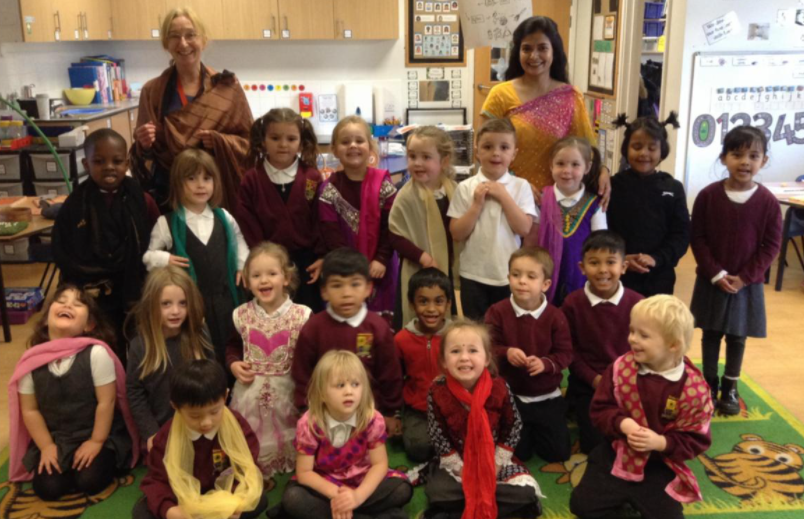 Monday 5th October 2021
Special Visitor in Reception!
Today we found a Giant in our corridor! He had come to give us our English text for this week: 'Jack and the Beanstalk'!
The giant is so tall, even taller than Miss Burles and Miss Khokhar!
At first we were a bit nervous and scared but we think he might have mended his ways and become a friendlier giant. The children had lots of inventive ideas about how to get the giant to leave the school.
We read the story and have begun to explore our environment which has lots of 'Jack and the Beanstalk' activities this week.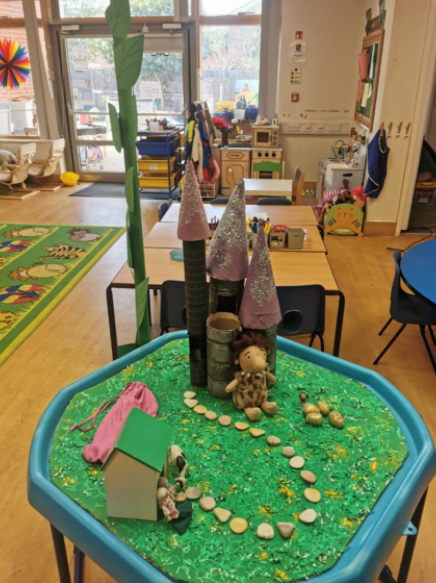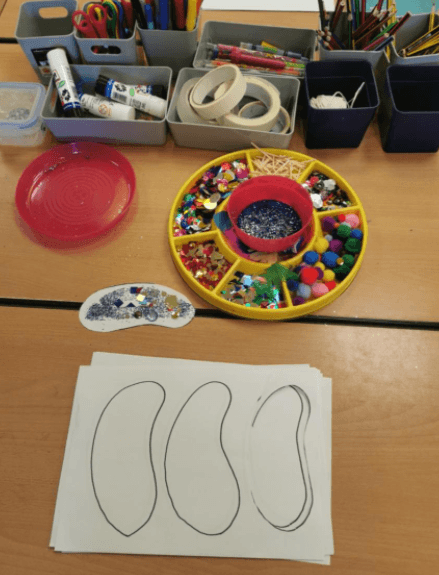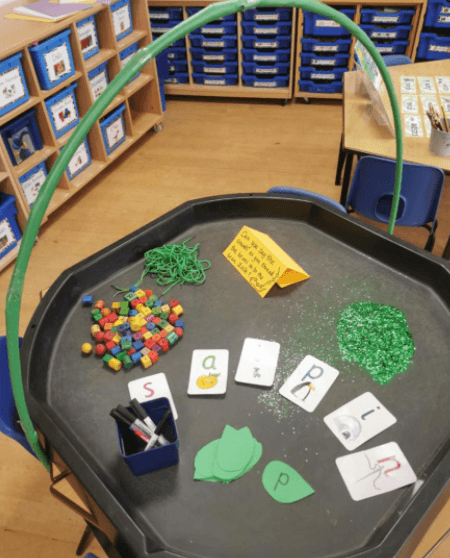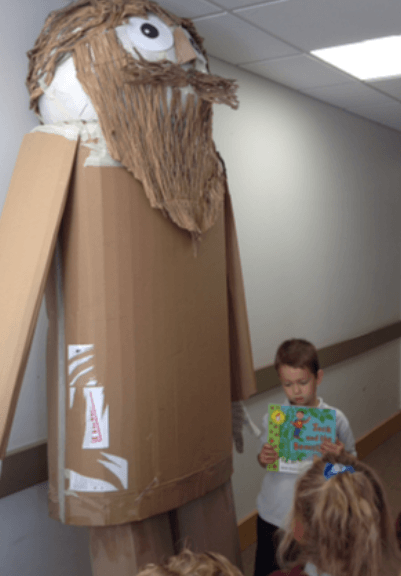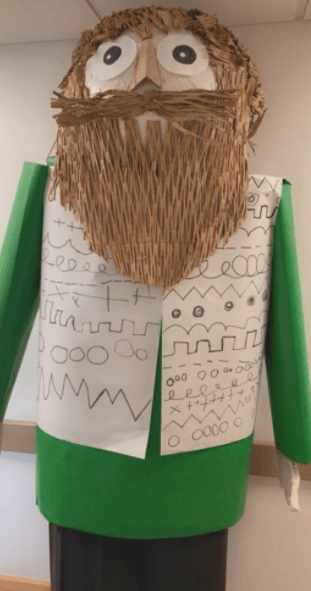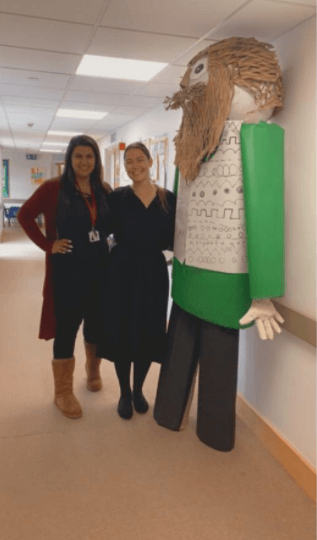 Friday 1st October 2021
Goldilocks and the Three Bears
This week the children have been learning the story of 'Goldilocks and the Three Bears'. They entered the classroom on Monday to discover someone had been sampling the three bears' porridge, had gobbled up all of baby bear's, broken his chair and had been sleeping in his bed. Using the clues, the children had to work out who this might have been.
We then read the story and created a story map for it in English.
In Maths we have been learning about size, ordering different sized bears, bowls and chairs and using vocabulary such as small, medium, big, smaller, bigger, smallest and biggest. Can you use those words with your child at home to see if they can remember how to use them correctly?
In the environment the children have had some great creative, fine motor and small world activities to complete as well.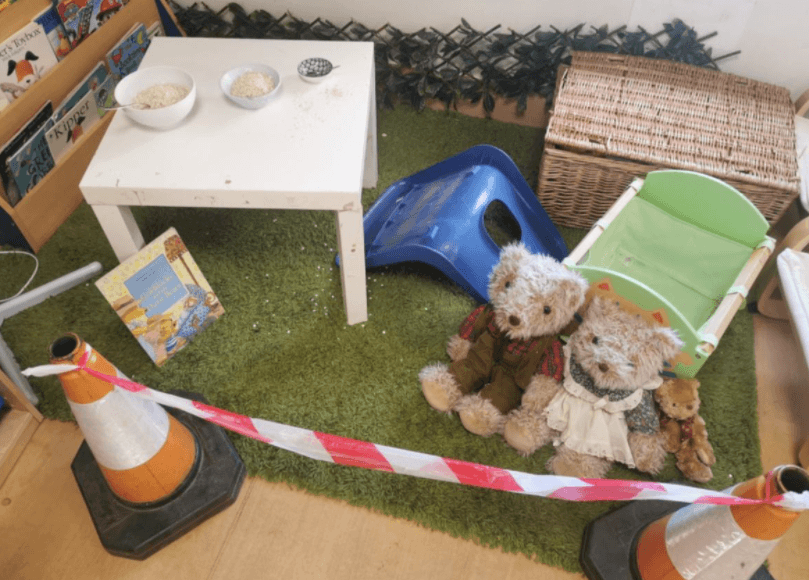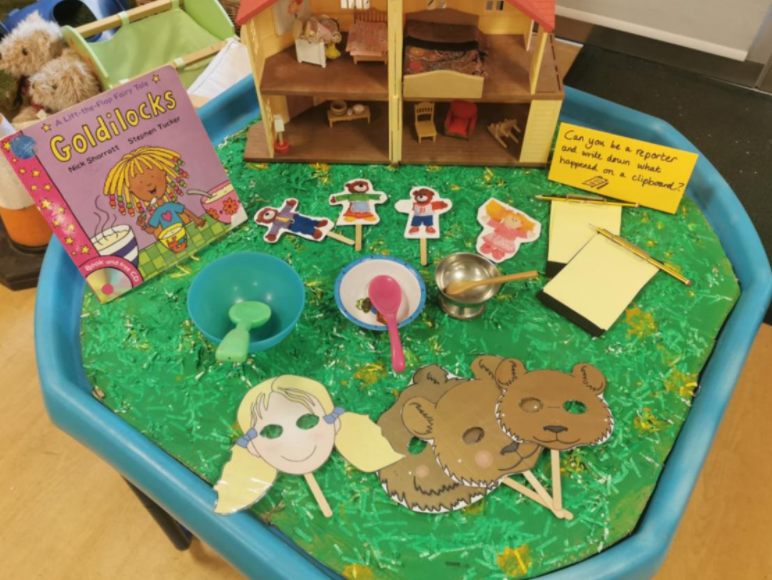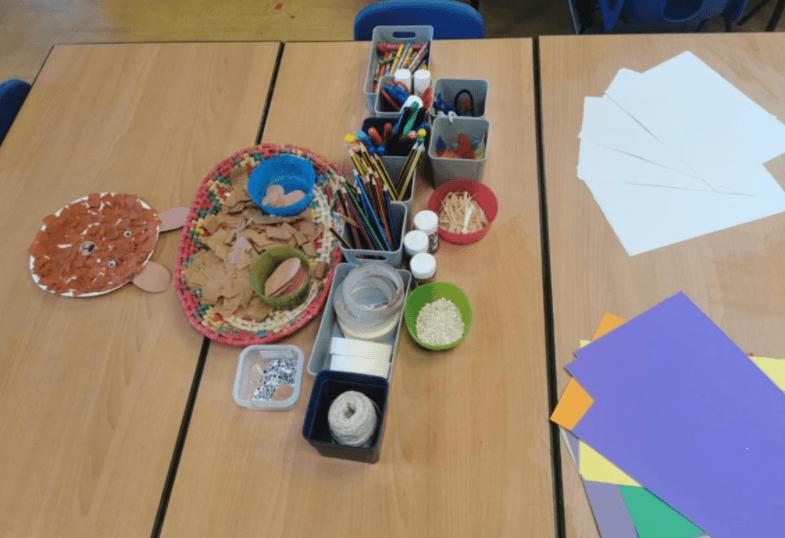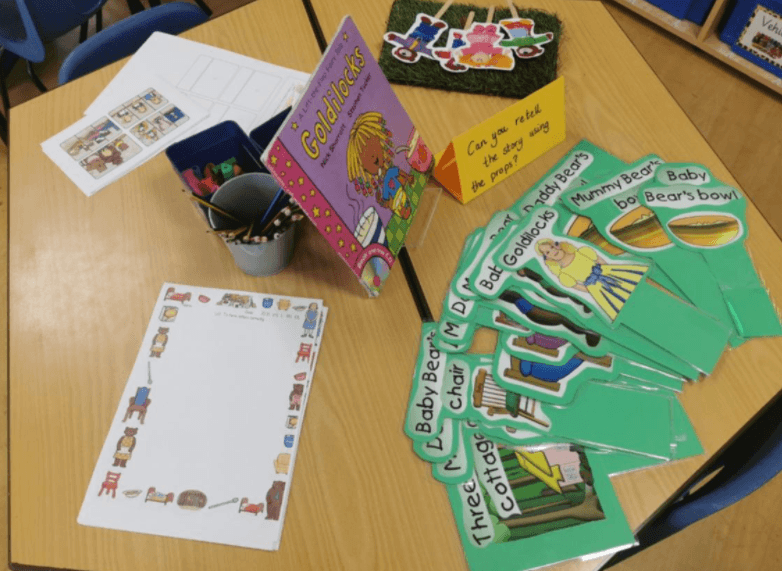 Thursday 23rd September 2021
Repeating Patterns
This week Reception have been busy making repeating patterns using objects we have in the classroom. We have tried alternating colours and shapes and some have even tried AABAAB patterns. Well done Dragonflies and Ladybirds!
Monday 20th September 2021
The Little Red Hen and Bread-baking
Today we found out what our new class story is - The Little Red Hen! Ask your child if they can remember the story. The Little Red Hen made a visit to the classroom and gave us a little bread to try. In the afternoon Mrs Chambers asked if anyone could help her bake some bread. All the children had learnt the lesson from the story of The Little Red Hen and they all offered to help her bake it! Afterwards we had some delicious rolls to try.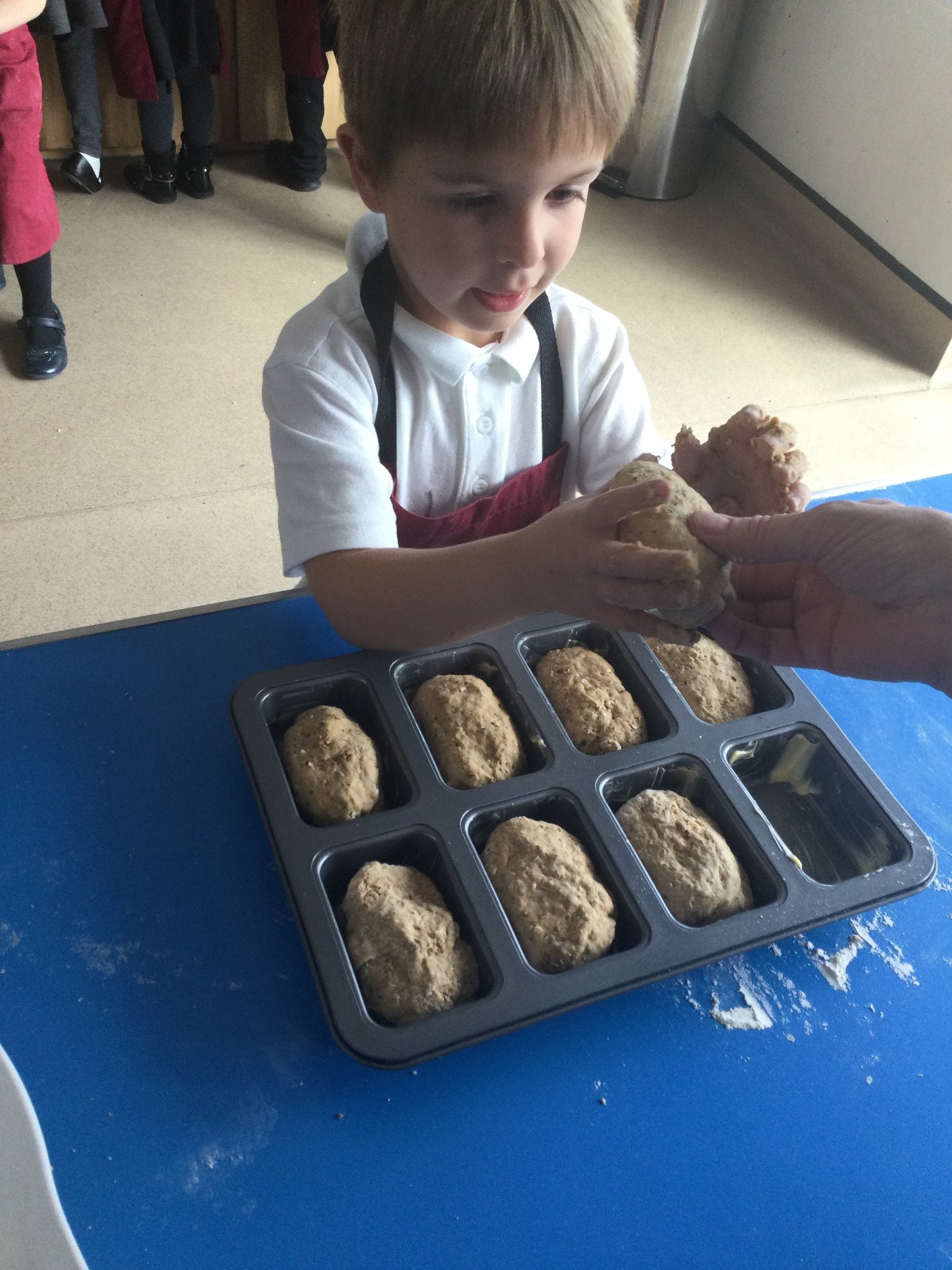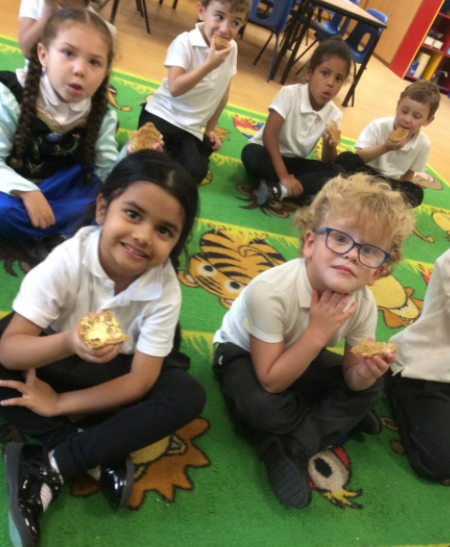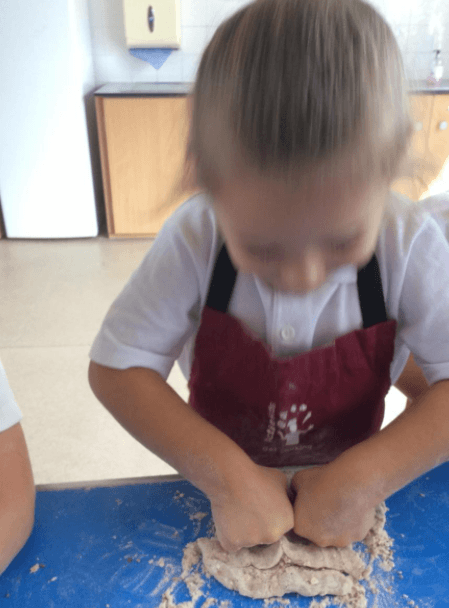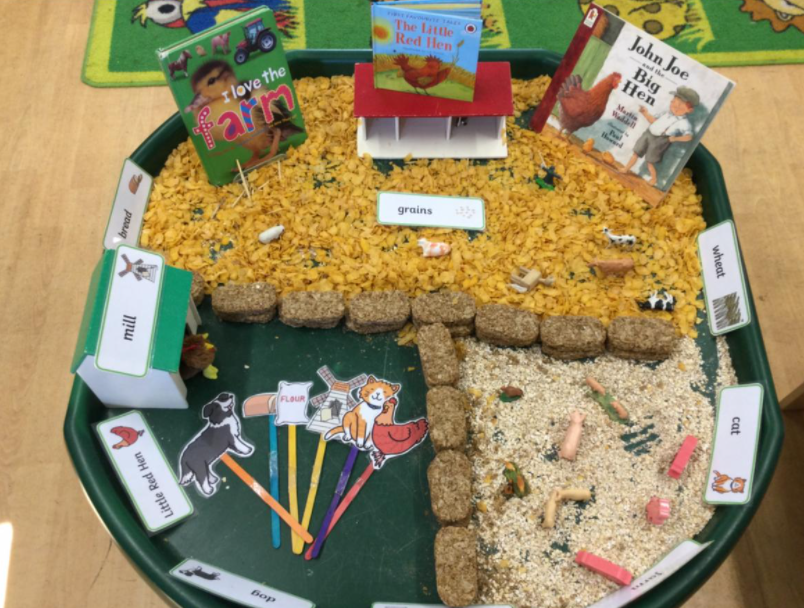 Friday 17th September
The Three Little Pigs
Today the children performed their story map that they have been working on all week - they did a fantastic job and we were so impressed at how hard they have been working to remember the actions from the story.
Tuesday 14th September 2021
Today we walked into the classroom to find an alarming crime scene. A huge wolf like creature had blown over some houses and there seemed to be some pigs missing.
A police officer visited our class to take notes from the children about what they had seen. The children helped the officer by counting how many missing pigs there were and using adjectives such as 'big' and 'furry' to describe the wolf to the officer. The children also practised their turn taking by putting their hands up to give the police officer information.