Blogs
Friday 26th November 2021
The children made some magic wands out of sticks from the nature area. They used coloured yarn and natural objects like leaves, flowers, and grasses. They then took everything back to Pre-school and used the yarn to wind it around the sticks, threading the natural objects through the yarn and sticking them down with tape. The children loved their wands and enjoyed making magic spells with them!
Friday 19th November 2021
In Pre-school for Anti Bullying week, we have been talking about how to be kind to our friends and what things we can do to that are kind. We have shared a story called 'The Rainbow Fish' which helped the children to understand that being kind to each other makes people feel happy and included. We also practised sharing and taking turns with our resources and toys. We used things like a sand timer to help us with taking turns.
Wednesday 17th November 2021
This week the children chose the activity 'make your mark' from the 50 things app. They had a go at colour mixing. They used the colours red, blue and yellow and mixed two colours together in little pots to see what colour they would make, then they mixed in a third colour to see how it changed again. The children painted the colours they had made onto paper, so they could see clearly how the colours had changed through the mixing process. This activity helped children to learn that you can combine colours together to make different ones and what changes happen when you put them together.
Friday 12th November 2021
The children took part in a maths activity at the nature area. They explored the environment to see if they could find different sized sticks or twigs from the ground. Then on a big piece of paper, they lined up the sticks and twigs in order, starting with shortest all the way up to the longest. The children had fun finding out which ones were shorter or longer and deciding where to put them on the paper. It helped them to think about the mathematical concepts of long and short and to see how they looked when they laid them out in a line.
Friday 5th November 2021
In the nature area this week the children went on a hunt for different coloured leaves. They looked around to see how many different colours they could find and then when they got back to Pre-school they sorted them into boxes according to what colour they were. Using the leaves they had sorted the children then made a leaf rainbow on a big piece of paper, making the leaves go round in an arch shape. The children had fun exploring the environment looking for as many different colours as they could find and then talking about the shape of a rainbow and what it looks like.
Friday 22nd October 2021
This week we looked at the 50 things activity number 25 'creative junk.' The children used different types of junk like cardboard tubes, boxes, and materials to create their own junk models. They used scissors, tape, and glue to cut, stick and put the pieces together. This activity encourages children to use their imagination, by thinking about what they want to make, it also develops their vocabulary as they learn new words to describe what they are doing and making. They can also practice fine motor skills by using scissors, pens, pencils, and manipulating the materials to create their models. This is a fun activity that doesn't cost money because you can use what you have to hand.
Friday 15th October
This week we explored number 6 on the app called 'Rhyme Time.' Children love singing and Rhymes, it helps with their language development learning new vocabulary and they start to understand the rhythm of language. It also helps with speech development as they use the muscles in their tongues and mouths to make different sounds. Acting out rhymes helps build their creativity and imagination too. The children sat round in a circle and took turns to sing their favourite rhymes, we used props as well to encourage the children to join in and have fun with the singing.
Friday 1st October 2021
Our topic this half term is all about bears. On our visit to the nature area this week, the children played a game with some teddies. Three different sized teddies were hidden around the nature area and the children had a go at seeing if they could find them. They listened to some information about which direction the bears had gone in and some clues about where they might be hiding. They had fun trying to work out where the bears were and shouted out when they found them. This activity encouraged the children to develop problem solving skills by using information they had heard to help them find the bears.
Friday 8th October
Our 50 Things activity this week was number 48 'Natural Art.' The children collected natural objects like twigs, leaves, stones, and feathers from the nature area and then bought them back to the classroom. Using what they had foraged the children created different pictures like a tractor, a house, etc. This activity allows children to use their imaginations and support their creative development. It also gives them opportunities to explore maths principles like size, symmetry, and pattern. Their vocabulary will also develop by learning new words to describe what they are making.
Friday 24th September 2021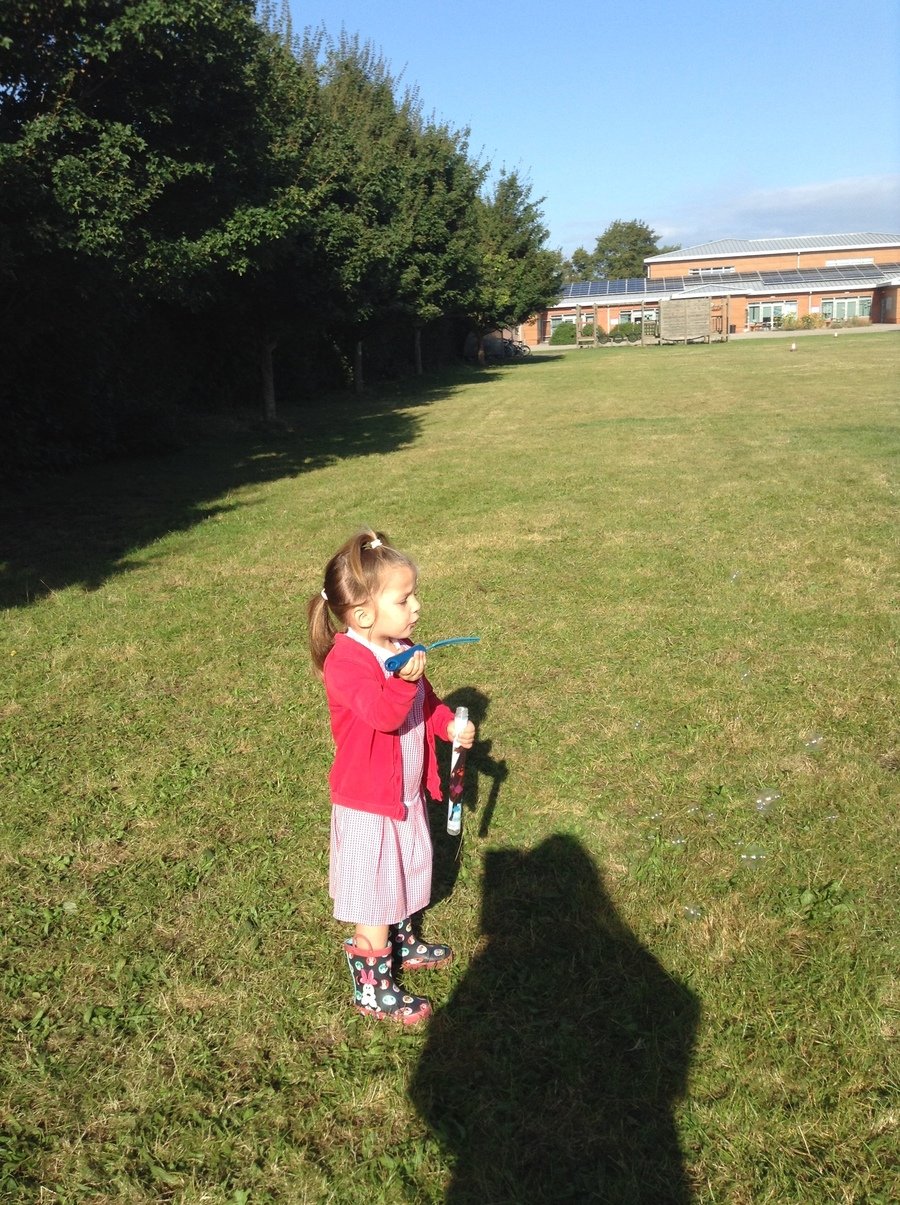 For our 50 Things activity this week we did 'Bubbles' which is number 8 on the app. Bubble play is a really simple activity that you can do in all weathers, and you can make your own bubble mixture by using washing up liquid in a bowl, and some added glycerine. For our activity, we used a bubble mixture that we had in Pre-school and we took it to the field. The children were able to take turns blowing the bubbles, seeing how high they went in the air, counting them, and jumping to pop them. Playing with bubbles helps children's gross motor skills as they jump up to pop them, it increases their vocabulary as they learn new words like blow, pop, fast, slow, high, low, etc., and encourages them to use numbers as they count the bubbles they have popped. This is a low-cost activity that you and your child can have lots of fun with and everyone can join in.
Thursday 16th September 2021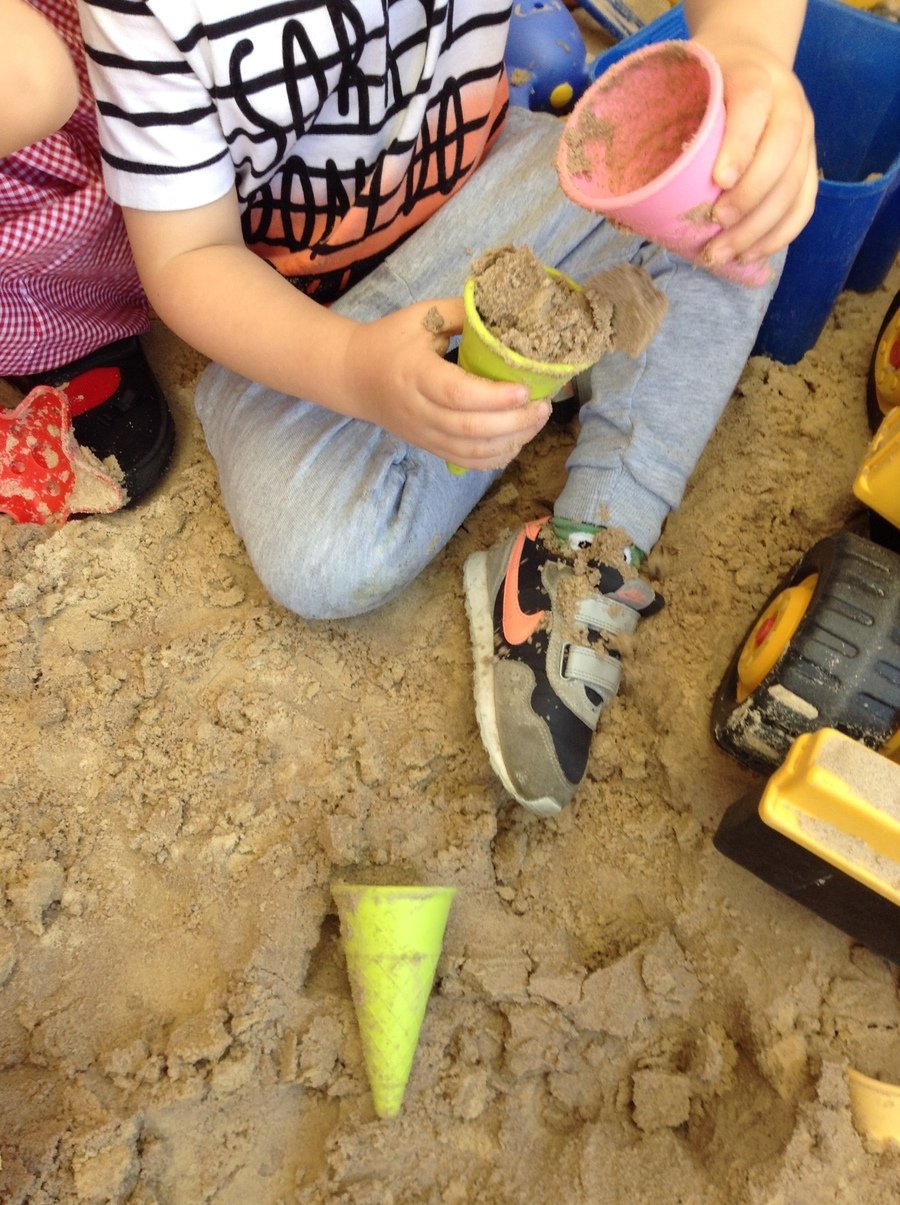 Welcome back, everyone!
It's the start of a new term and we are carrying on with our 50 Things activities every week. This week we have been exploring the activity called 'squidgy sand' which is number 5 on the app. The children spent time in the sandpit making sandcastles and using the grabbers to grab the sand and then let it go again. They also moulded the sand into different shapes using their hands. Playing with sand encourages children to learn new vocabulary, for example when they are talking about what they are doing, they can also explore the properties of sand like, wet and dry, and concepts like patting, moulding and pouring. It is a really fun activity to do with your child and sand can easily be bought from supermarkets at a low cost.